Gevulde meloen
Een gouwe ouwe is dit in huize Plien's. Door het serveren in een halve meloen ziet het er meteen superfeestelijk uit. Ingewikkeld? Nee hoor! Meloenbolletjes zien er leuk uit, maar wil je het nog makkelijker dan koop je een bakje meloenstukjes en serveer je het in een kommetje.
Wat heb je nodig?
2 galiameloenen
300 gram kipfilet (of gerookte kip als je nog sneller aan tafel wilt)
1 zak wortelreepjes
2 paprika's
1 komkommer
1 zak veldsla
1 theelepel paprikapoeder
eventueel amandelschaafsel of blanke amandelen
Sausje:
3 eetlepels volle yoghurt of kwark
1 á 2 eetlepels mayonaise
1 theelepel kerriepoeder
Hoe maak je het?
Amandelen even roosteren in droge koekenpan
Kip snijden en in olie bakken met paprikapoeder
Oven aanzetten voor stokbrood
Ondertussen paprika en komkommer in blokjes snijden
Dressing maken door yoghurt/kwark te mengen met mayo en kerrie. Beetje zwarte peper erbij. Even proeven!!
Meloenen halveren. Bolletjes met een meloenlepeltje eruit schepen. Of gewoon in blokjes snijden.
Goed uithollen. Dan kan er lekker veel salade in.
Snijd aan de onderkant een klein stukje af zodat de meloen niet zo wiebelt op je bord.
Sla, groente en dressing mengen. In halve meloen scheppen. Kip erop. Amandelen erover.
Serveren met stokbrood en kruidenboter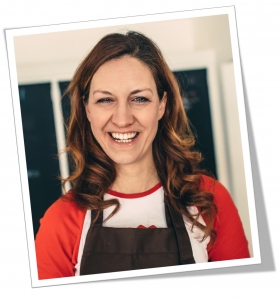 Spreekt dit je aan en wil je niks missen van de tips en recepten van Plien's? Schrijf je dan hier in voor Plien's Nieuws. En op Insta of Facebook kun je me volgen voor nog meer inspiratie en tips over gezond eten op een makkelijke manier!